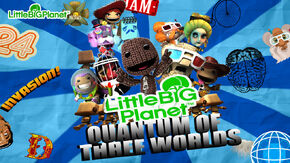 LittleBigPlanet: Quantum of Three Worlds is an unofficial level kit, made by pm58790.
Plot
The story takes place between LittleBigPlanet 2 and LittleBigplanet 3.
The Negativitron is back and once again planned to destroy Craftworld, but this time he plans to merge Craftworld. Sackboy needs help from heroes from different worlds like The Muppets, the Justice League, friends from Toy Story, the Posse, and the heroes from Marvel Comics. The fate of Craftworld is in your hands.
Characters
LittleBigPlanet
The King
The Queen
King Zola
Frida the Bride
Uncle Jalapeno
Mags the Mechanic
Grandmaster Sensei
The Great Magician
The Collector
Wobbly Ape
Wooden Steed
Dumpty
The Butler
Don Lu
Don Lu's Dog
Ze Dude
The Bouncers
Meekrats
Meekrat Mum
Stripy Tail
King Croc
Little Xim and Big Zam
Flame-Throwing Cat
The Shopkeeper
The Goddess
The Scientist
The Soldier
LittleBigPlanet 2
Larry Da Vinci
Victoria von Bathysphere
Clive Handforth
Avalon Centrifuge
Eve Silva Paragorica
Dr. Herbert Higginbotham
Sackbots
Negativitron
Meanies
Sackbot Meanies
Metal Gear Solid
Solid Snake
Meryl Silverburgh
Raiden
Screaming Mantis
Pirates of the Caribbean
Sack Sparrow
Will Turner
Elizabeth Swann
Tia Dalma
Barbossa
Davy Jones
Pelegostos Tribe
Marvel Comics
Iron Man
Mystique
The Thing
Doctor Octopus
Daredevil
Spider-Man
Human Torch
Elektra
Ghost Rider
Thor
Captain America
Wolverine
Invisible Woman
Venom
Magneto
Green Goblin
Storm
Hulk
The Punisher
Hawkeye
Nova
Black Widow
Iron Fist
Doctor Doom
Deadpool
Toy Story
Buzz Lightyear
Slinky Dog
Hamm
Rex
Woody
Jessie
Stinky Pete
Zurg
LittleBigPlanet 2: Move Pack
Cakeling
Garibald Mossrock
Granny Applecore
Steakhouse
Stephen the Beatnik
Bob
LittleBigPlanet 2: Cross-Controller Pack
Wiseduck
Warden
Wiggins and Tom
Digital First Mate
The Muppets
Kermit the Frog
Fozzie Bear
Dr. Bunsen Honeydew
Beaker
Miss Piggy
The Great Gonzo
Statler & Waldorf
Animal
DC Comics
Superman
Lex Luthor
Cyborg
Cheetah
Batman
Joker
Harley Quinn
Green Lantern
Killer Frost
Wonder Woman
The Flash
LittleBigPlanet 3
Levels
Episode 00: Introduction
Episode 01: The Adventure Begins
Episode 02
Episode 03
Episode 04
Episode 05
Episode 06
External Links