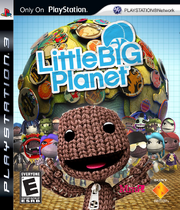 LittleBigPlanet is a game for the PlayStation 3, developed by Media Molecule. It had a large variety of levels but it's main charm was in its level creating and sharing features, and its online abilities. In the LittleBigStore, multiple level kits and new costumes are available to be bought. This wiki is about fanon of this game, which is stuff which isn't actually real but is an idea by fans. We will also have a database of levels that are available to play online.
General Story
The Creator Curators are the people who take care of LittleBigPlanet. One of them goes rogue and begins to steal many of the people that live on the peaceful planet. Sackboy and his friends set out across the planet, meeting up with the Creator Curators and helping all of them solve their problems until The Collector is finally defeated. He only kidnapped the people to get some friends; The King suggests that everybody on LittleBigPlanet can be his friend! Although the day has been saved, Sackboy still has the rest of LittleBigPlanet to explore, and it's growing constantly with new levels being made daily.
Ad blocker interference detected!
Wikia is a free-to-use site that makes money from advertising. We have a modified experience for viewers using ad blockers

Wikia is not accessible if you've made further modifications. Remove the custom ad blocker rule(s) and the page will load as expected.